Christina Aguilera Moving to Adrienne Maloof's Former Mansion
Christina Aguilera has taken a new home in Los Angeles, California. The singer purchased her most recent piece of real estate for $10 million. With that neat stack of greenbacks, Aguilera snapped up 11,000 square feet of celebrity opulence inside the Mulholland Estates, a very exclusive community in L.A. The home comes with six bedrooms and eight bathrooms, according to TMZ. Needless to say, beautifully landscaped exteriors could not be missing from the residence.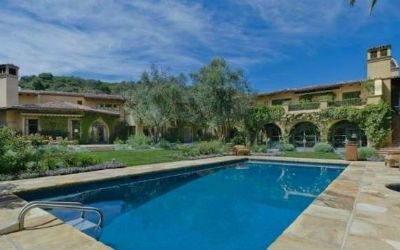 In it, the singer will have no trouble living the good life thanks to amenities like a screening room, walk-in cellar, spa, and saltwater pool. Also, when the mood strikes her, Xtina will be able to enjoy a library of her own. The singer, song-writer, actress, and voice coach will have as neighbors Charlie Sheen and another famous blonde — Paris Hilton.
Right before making her move on the Mulholland Estates property, Aguilera sold her former Beverly Hills manse for $13.5 million. She is said to have purchased that home from the Detroit Pistons' owner. As for her new Mulholland Estates property, it's a glamorous mansion that was formerly rented by reality TV diva and businesswoman Adrienne Maloof, who became a recognizable figure thanks to her participation in the popular show "Real Housewives of Beverly Hills." Maloof's rent during that time was reported to be $20,000, monthly.