Dick Clarks Malibu Home Up for Sale
Dick Clark gave the Malibu housing market a shot in the arm when "America's oldest teenager" listed his hilltop property in Malibu. With a beautiful view of the ocean, and the surrounding hillsides, this Flinstone-esque house is a fun and beautiful listing in an area dotted with unique homes.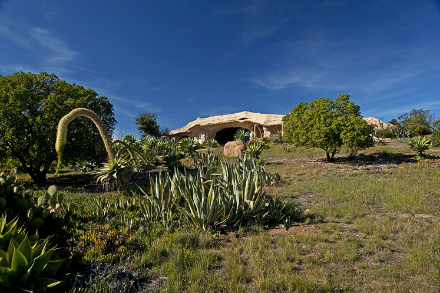 The home still hasn't sold, but some lucky buyer will reap the benefits of a half-million dollar discount that just hit the $3.5 million asking price.
The home is listed by Coldwell Banker, and agent Diane Carter told Yahoo Homes was like a "romantic getaway." Clark and his wife, Kari, have owned and used the property since 1988. The house went on the market in 2012, shortly before Clark's death. Now the property is owned by his widow, who hopes to sell it soon.
The home sites on 23 acres, a great value for property in Malibu (which routinely clocks in at the multi-million dollar mark). It's also surrounded by protected land and trails that lead into the Santa Monica Mountains conservency.
The Santa Monica conservancy didn't want Clark building on the property, but he used a subtle trick to dig in his heels and get it done. He convinced the authorities that his home would look like a rock formation, so the natural beauty of the land would remain preserved. The architect, Phillip J. Brown, was responsible for the design that granted Clark 360 degree views of Malbu and the San Fernando Valley.
That real estate is practically unheard of for the ritzy residents of Malibu, who are often forced to build within rigid constrictions. Privacy is also assured on the remote property, which is at the end of a three-mile drive up a canyon road.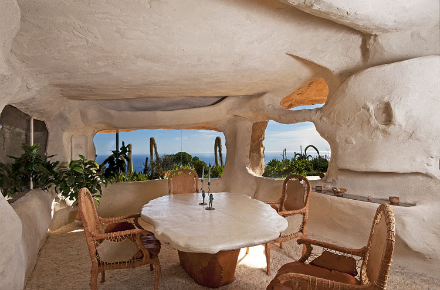 The house is by no means huge, especially when compared to Malibu standards. It's a meager one bedroom affair with just two baths, but there are plenty of spaces around the property where one can relax and unwind. And the house is not exactly modern by any stretch of the imagination. One blogger dubbed the property "almost cochlear," a reference to the human ear.
Not everyone thinks the unique look is bad. Far from the Flinstone's crowd of architectural nay-sayers, one architect and writer named Witold Rybcyznski has rushed to defend the design. He says the architecture is "blob architecture" before that was a thing. This is a reference to Gregg Lynn, an architect who coined the term to describe the creations he experimented with in metaball graphical software.