Singleton House Up for Grabs, Asking Price $18 Million
The Singleton House in Bel Air is up for sale, and it'll cost the buyer a lavish sum. The famed home, selling for $17.995 million — a little shyer than 18 million, impossible! — is a modernist hilltop beauty designed by architect Richard Neutra. It dates back to1959. Henry Singleton, a prominent engineer and businessman, who, by the way, was once director of Apple Computer, paid Neutra for his efforts and owned the house long enough to give it his name. Years after Singleton passed, Vidal and Ronnie Sassoon came to buy and restore the home. Sassoon, the extraordinary hairdresser responsible or Mia Farrow's cropped locks in the 1968 film Rosemary's Baby, died in May after battling leukemia.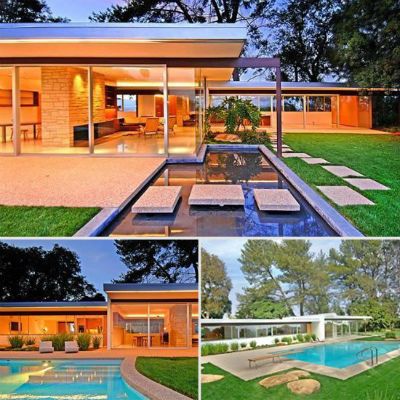 The property, a full 6,400 square feet of living space attached to 5 acres, has a tony address: 15000 Mulholland Dr., Los Angeles, CA 90077. Four bedrooms, five bathrooms, and a fireplace in the living room are included in the deal. The interiors are lauded for their open floor plan and for the abundance of natural light that filters through its numerous walls of glass.
The home's new owners will enjoy beautiful views of the Los Angeles scene in every direction. They'll also get to delight in a spa, an indoor bar, a bounty of gardens, and a pool with outlying boulders apparently set in place by the acclaimed American sculptor Isamu Noguchi.