Exotic Mansion with a See-Through Rooftop Pool
Located in Marina Del Ray, California, less than a block from the beach, this beautiful 8,400 square foot, four story house is truly fit for a playboy billionaire.
The most striking feature of this gorgeous property is the construction of a rooftop pool with a clear glass floor looking down into the living room. Excess is everything for a luxury home in California. Guests enjoy a home theater system, a 'disco ball' room, and home gym for entertainment. Included with 10,000 gallon shark tank, this home is certainly out of the ordinary.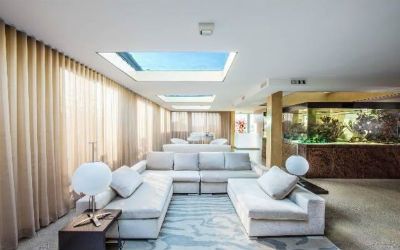 In addition to its exotic design features, it also includes amenities for comfort after a long night partying. The four stories are connected by a lavish elevator, making trips from the lower to upper levels easy. Each bathroom in this seven bedroom house includes with a large tub and fireplace.
And on those relaxing Southern California evenings, a lavish outdoor patio with a brick pizza oven is perfect for you and your guests and enjoy a game on the giant chess set. Watch the sunset with a glass of wine from the walk in Onyx wine room, and enjoy an evening in the sauna.
And if that isn't enough space for guests, there is an accompanying guest house that dwarfs the average American home in style. This separate house has two bedrooms and two bathrooms for privacy, and a five car garage.
From the shark tank in the living room to the lushly designed patio, this house is the ultimate place for both memorable parties and unbeatable relaxation. It is on the market now, and open house events will start at the end of this month, according to Stella Zinberg, the listing agent for Keller Williams Beverly Hills.